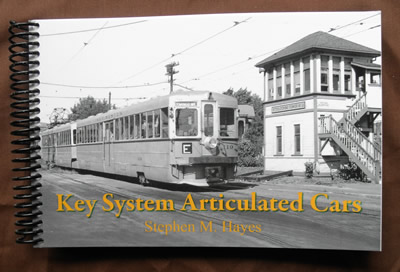 A complete pictorial history of the little-known but fascinating Key System, a series of passenger lines serving Oakland, nearby cities, and across the bay into San Francisco.
Starting prior to the opening of the Bay Bridge, and covering the entire period through closure in the 1950s, this volume contains many never-before-published photographs, packed with items of interest.
All lines forming the Key System are covered, with route maps and details of operations, plus the Shipyard Railway, the 1939 Golden Gate International Exposition trains, maintenance cars, and other topics.
Also contains a full reprint of 40-page bulletin published by the General Railway Signal Company in 1939: Railway Signaling on the San Francisco-Oakland Bay Bridge.
$30.00 THIS ITEM IS SOLD OUT