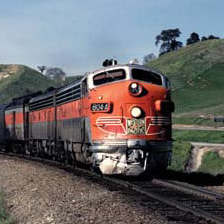 The bulk of the book is laid out in geographical order and covers the entire route of the Western Pacific Railroad, from San Francisco to Salt Lake City, with an additional chapter covering the branches. Details of the milepost distances and elevations at each depot are included.
The final chapter presents a complete list and description of all passenger trains that the Western Pacific ran over the years, covering the period from 1910 to 1970.
To view a map of the route and branches, showing the names and location of all depots and stations covered in the book, click one of the links below. Note that to aid readability these images are quite large.